INVISIBLE VISOR + PURIFIED AIR RESPIRATOR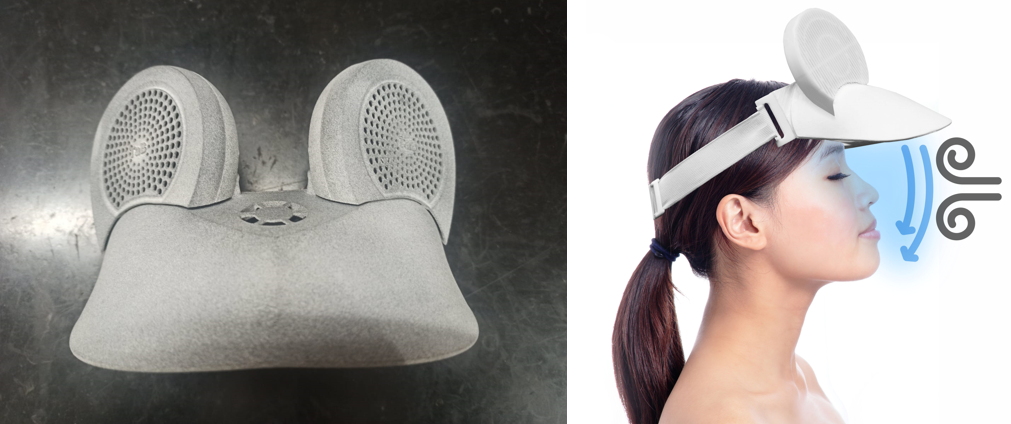 Indoor: protection when used in draught-free interior environments.
Outdoor: protection when used outside against the environment.
Sport: protection during outdoor sports activities (footing / jogging etc.).
Max: prior to the use of anti-UV glasses, it provides protection during outdoor fast movements (running / cycling).
The autonomy of the protection depends on the type of use. Benefitting from the use of high efficiency fans and lithium batteries, a wearer can expect protection of more than 2 hours per battery pack for use in average conditions.
the advantages of take a breath:
BIOLOGICAL PROTECTION: PROTECTION OF WORKERS IN INTERNAL AMBIENTS
SAFETY / HEALTHY SECTOR - IN ALL INDOOR SPACES, INCLUDING OPEN SPACE OFFICES, WORKPLACES WITH HARMFUL PROCESSES ETC.


PHYSICAL PROTECTION FROM OPEN AIR POLLUTANTS: FINE DUSTS
PEDESTRIAN PROTECTION. WEARABLE SECTOR. IN ALL SPACES WHERE THERE IS POLLUTION.

PROTECTION OF ATHLETES: WELLNESS / FITNESS SECTOR
IN CASE OF SPORTS ACTIVITIES SUCH AS JOGGING / CYCLING / BIKING IN CITIES OR IN POLLUTED ENVIRONMENTS.

PROTECTION FOR SKATEBOARDS / SCOOTERS / CYCLISTS / BIKERS / CYCLING SECTOR / KICK SCOOTER
iN CASE OF SPORTS ACTIVITIES SUCH AS CYCLING / BIKING / ETC BUT ALSO FOR BIKERS.